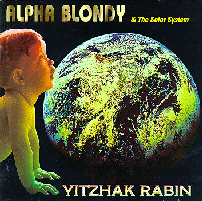 ALPHA BLONDY
Yitzhak Rabin
(Tuff Gong)



Alpha Blondy & The Solar System's release of "Yitzhak Rabin" offers 12 tracks and just over 52 minutes of fresh sounding uptempo Reggae. The songs are catchy and Blondy even uses the I-Threes to sing harmony on 3 of the tracks, the first two - which are worth the price of the disc alone - ("New Dawn" and the title track) then on "Les Larmes De Therese".

The strange thing about this release is that after the first two above-mentioned tracks, the rest of the songs aren't sung in English. Regardless, it's a great sounding disc (upbeat with lots of horns) and Alpha Blondy once again proves why he's a major talent.






MAIN PAGE

SKANK RECORDS

FREE SKANK SAMPLER

SKANKWEAR

NEW RELEASES

CD REVIEWS

SKANK RADIO

MYSPACE

ARTICLES

POSITIVE VIBES ON KDHX

CONCERT REVIEWS

FAVORITE LINKS

GET IN TOUCH

WHO IS PROFESSOR SKANK?