WHO IS PROFESSOR SKANK?




Greetings, I'm Professor Skank, a hardcore reggae enthusiast from St. Louis, Missouri. I've always taken my music very seriously, first being a passionate follower of The Who in the early '70s, then moving on to The Clash later in the decade. That's also when I originally got into reggae music.

The Clash's debut album (by the way, possibly the most intense rock n' roll record of all time) contained an incredible cover of "Police and Thieves." I was so intrigued by it, I went out and found the original song on the excellent introductory album, "This Is Reggae Music, Vol.3."

I was still into the hard rock sounds of cutting-edge bands like The Jam, Buzzcocks, X, Sex Pistols and Stiff Little Fingers, but I was slowly getting hypnotized by the unique sound of reggae. A local radio station had a show called "Beat Down Babylon," which was fantastic. Every week, the extremely knowledgeable Leroy Pierson would play killers and I would record the show (I still have over 70 tapes). Talk about an education!

After college in Austin, Texas (studying journalism) I finally decided to put my love for reggae to good use, and began writing for the St. Louis Post Dispatch in 1992. Soon after, it was my turn to spread these great tunes over the airwaves, co-hosting "Positive Vibrations" with Joe Striker each Saturday from 6-8 p.m. CST on KDHX 88.1 FM, St. Louis Community Radio. Striker retired in 1998 and was replaced by Michael Kuelker. In 1999, the show was expanded by one hour and we were on Saturday nights from 7-10. In 2004, the show went back to 2 hours. We're still on Saturday nights, but we're now broadcasting from 8-10 p.m. (hate to say but they changed the time again, so we're now on from 9-11 p.m.).

I also occasionally promote concerts and have previously brought in town the Meditations, Lucky Dube, Midnite, Ossie Dellimore and Zion, as well as promoting two local Reggae Fests and Roger Steffens' presentation, "Life Of Bob Marley." I've written articles and reviews for Reggae Report, The Beat, Reggae Review, the St. Louis American, the Riverfront Times and the aforementioned St. Louis Post Dispatch. I also wrote the liner notes to the Meditations' cd, "Reggae Crazy."
In 2003 I started my own record label - Skank Records - and re-issued Ossie Dellimore's classic debut, "Freedom's Journal," in January 2004. My sophomore release, a killer compilation entitled "Crucial Reggae From Outside Jamaica" was released 10 months later and believe me when I tell you that it is awesome...Volume 2 of that series was released in May of 2005 and Vol. 3 was released in November of 2006. "Third Ear," from Maimon And The Mongoose Band (originally known as "Mongoose") was released in March 2007 and another awesome compilation, this one entitled "Classic Rasta From Jamaica And Beyond, Vol. 1" was released in June of 2008. After some health problems, a new cd from Zion, "Strictly Roots," was released in April of 2010 and the sophomore release from Ossie Dellimore was released 5 months later, in September. Zion's cd entitled "Crying For Freedom" was released in June of 2011 and Vol. 4 of the "Crucial Reggae From Outside Jamaica" series was released in the spring of 2012. I take my label very seriously (each cd has a 16 page booklet with lyrics) and I truly know each disc will absolutely blow you away...



That's about it. Be cool everybody. Keep skankin...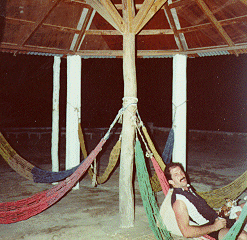 Skanked out in Negril, 1995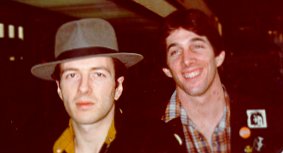 With Joe Strummer, 1980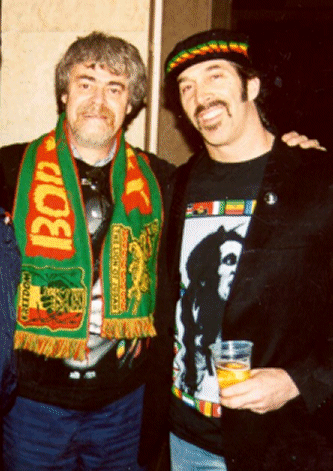 With Ras Rojah, 2002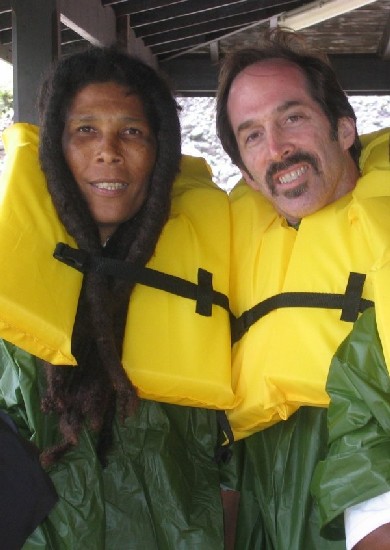 With Nasio in d/a country, 2006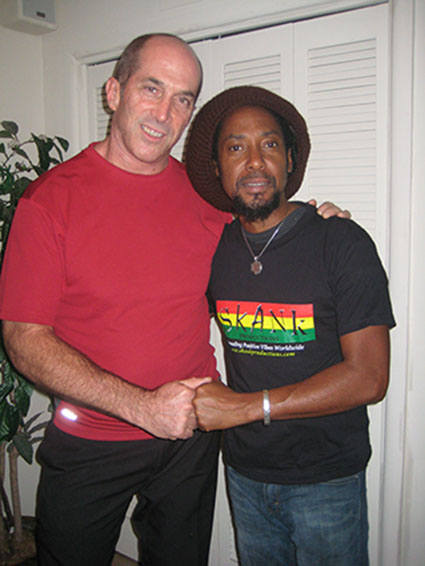 With Taj Weekes, 2014






Check out the March 2005 article on the Professor in the Riverfront Times...
Riverfront Times


and check out the February 2012 article in the St. Louis Magazine...
St. Louis Magazine








MAIN PAGE

SKANK RECORDS

FREE SKANK SAMPLER

SKANKWEAR

NEW RELEASES

CD REVIEWS

SKANK RADIO

ARTICLES

POSITIVE VIBES ON KDHX

CONCERT REVIEWS

FAVORITE LINKS

GET IN TOUCH