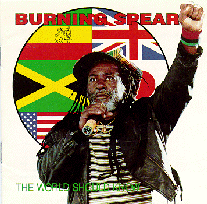 BURNING SPEAR
The World Should Know
(Heartbeat)

This originally ran in the St. Louis Post Dispatch in 1993.

Many of today's reggae releases are dominated by computerized sounds and 90's technology. Not so with the latest from Burning Spear. This one's like a blast from the past, with ten solid tracks of refreshing roots reggae.

Winston Rodney, who takes the name "Burning Spear" from the African freedom fighter and Kenya's first head of state, Jomo Kenyatta, has been a fixture on the Jamaican music scene since 1969. He's always been a "conscious" artist, preaching truth and rights, spiritualness, and the teachings of Marcus Garvey. The sound on this release is full and rich, with relentless horns and rhythms. Spear's rough, distinctive voice comes across as strong and irresistible as ever.

His vocal style is to ride the rhythm with repetitive, hypnotic chants while his voice, filled with wisdom, authenticity and a sense of urgency, makes it almost impossible not to be drawn into his work. An example is the title track, where he continually chants, "there is enough for one and all, so why should one man want it all? The world should know..."

"The World Should Know", indeed. Heartbeat records is doing its part, by releasing this disc and calling 1993 "The year of the Spear," and for good reason. Burning Spear's commitment and message are still alive, making this an important release from one of reggae's true living legends.






MAIN PAGE

SKANK RECORDS

FREE SKANK SAMPLER

SKANKWEAR

NEW RELEASES

CD REVIEWS

SKANK RADIO

MYSPACE

ARTICLES

POSITIVE VIBES ON KDHX

CONCERT REVIEWS

FAVORITE LINKS

GET IN TOUCH

WHO IS PROFESSOR SKANK?