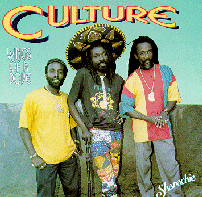 CULTURE
Wings Of A Dove
(Shanachie)

This originally ran in the St. Louis Post Dispatch in 1992.

Since its landmark release, "Two Sevens Clash," back in 1977, Culture has been one of the most respected and admired vocal groups in reggae history.

"Wings Of A Dove," Culture's most recent work, comes 15 years after that outstanding debut, and although it can't compare with that initial recording (and not many can), it's still an excellent release.

The 10 new songs are tight, extremely catchy, and are written and produced by Culture's leader, the one and only Joseph Hill. This living legend continues to sing righteous tunes while his rough, impassioned voice remains as strong and irresistable as ever.

From the hypnotic chant of "Marriage In Canaan," to personal favorites "Freedom Time," "Rub A Dub Style," "Pass On," and the title track, this CD is a real killer.

The production isn't as raw as some of Culture's previous material, but the slick 90's sound is quickly offset by Hill's authentic Jamaican delivery. Through that unmistakable singing style and his conscious, spiritual lyrics, "Wings Of A Dove" proves once again why Culture is one of the best roots harmony groups around today.






MAIN PAGE

SKANK RECORDS

FREE SKANK SAMPLER

SKANKWEAR

NEW RELEASES

CD REVIEWS

SKANK RADIO

MYSPACE

ARTICLES

POSITIVE VIBES ON KDHX

CONCERT REVIEWS

FAVORITE LINKS

GET IN TOUCH

WHO IS PROFESSOR SKANK?