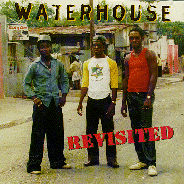 Various Artists
WATERHOUSE REVISITED
(Outa!/Hightone)

This originally ran in the St. Louis Post Dispatch in 1994

In the early 80's, Errol Lewis and Errol Marshall (better known as "Myrie and Marshall") established their Sunset label. Based in the notorious "Waterhouse" ghetto of Kingston, this young duo produced tracks primarily from youthful artists in their community.

Some of the results are found on "Waterhouse Revisited," with a dozen songs and just under 45 minutes of reggae.

You'll find early efforts from Sugar Minott (the only "established" artist at the time), John Wayne, Tonto Irie, Junior Reid and Half Pint. There are also two tracks each from Michael Palmer and Pad Anthony. A number of these obscure cuts will sound familiar as they follow the Jamaican practice of utilizing previous rhythms.

The gentle urgency of the music, crisp production, clean packaging and nice even flow make "Waterhouse Revisited" a fine sampler showcasing the early talents of these young artists and producers.






MAIN PAGE

SKANK RECORDS

FREE SKANK SAMPLER

SKANKWEAR

NEW RELEASES

CD REVIEWS

SKANK RADIO

MYSPACE

ARTICLES

POSITIVE VIBES ON KDHX

CONCERT REVIEWS

FAVORITE LINKS

GET IN TOUCH

WHO IS PROFESSOR SKANK?