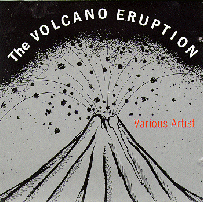 THE VOLCANO ERUPTION
(Sonic Sounds)

This originally ran in the St. Louis Post Dispatch in 1993

Sonic Sounds is a Kingston and Miami-based record company which has been releasing "bargain" CDs for the past few years now, with "The Volcano Eruption" being no exception. Containing 20 tracks and clocking in at 68 1/2 minutes, this disc is certain to rock you - Jamaican style - from start to finish.

The majority of these tracks were recorded in the early 80's at the Dynamic Sounds and Channel One studios and feature the Roots Radics. The sound is vintage reggae with captivating two-chord rhythm guitar, lots of reverb and echo, pumping bass and timeless production by Henry "Junjo" Lawes.

Reggae music is perhaps the coolest music ever, and most of these tunes support that claim. Just check out the classic tracks by Junior Reid, Hugh Mundell, John Holt, Cocoa Tea, Leroy Smart, Michael Prophet and Sister Nancy.

Problems do exist, though: abrupt song endings, a few uneven recording levels and some mispellings concerning the credits. But all in all, "The Volcano Eruption" is highly recommended and guaranteed to blow you away.






MAIN PAGE

SKANK RECORDS

FREE SKANK SAMPLER

SKANKWEAR

NEW RELEASES

CD REVIEWS

SKANK RADIO

MYSPACE

ARTICLES

POSITIVE VIBES ON KDHX

CONCERT REVIEWS

FAVORITE LINKS

GET IN TOUCH

WHO IS PROFESSOR SKANK?