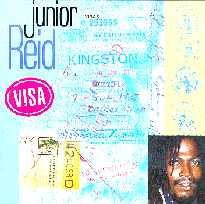 JUNIOR REID
Visa
(Greensleeves)

This originally ran in the St. Louis Post Dispatch in 1993.

Delroy "Junior" Reid, one of reggae music's most talented singers, is back with 14 new tracks on his latest, self-produced release, "Visa."

This one-time lead singer of Black Uhuru is still an exceptional vocalist. Traditional reggae fans will scoff, however - and with good reason - at his total embracement of the latest synthesized dancehall styles.

Reid's stylistic change is a letdown, yet there's no denying that the majority of tunes remain catchy and, like most of his material, address conscious themes. Just check out some of his song titles: "Gun Court," "Dreadlocks In The White House" and "Hospital, Cemetery or Jail."

The problem with this release isn't Reid's songwriting, though, it's his production. The sound comes across as being too clean; the mix has way too much treble and nowhere near enough bass. Regardless, "Visa" still has its moments, but they're few and far between.






MAIN PAGE

SKANK RECORDS

FREE SKANK SAMPLER

SKANKWEAR

NEW RELEASES

CD REVIEWS

SKANK RADIO

MYSPACE

ARTICLES

POSITIVE VIBES ON KDHX

CONCERT REVIEWS

FAVORITE LINKS

GET IN TOUCH

WHO IS PROFESSOR SKANK?