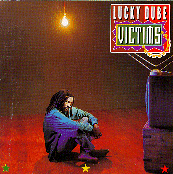 LUCKY DUBE
Victims
(Shanachie)

This originally ran in the St. Louis Post Dispatch in 1993.

"Victims," the highly anticipated follow-up to last year's "House Of Exile," once again finds Lucky Dube in top form.

In this day and age when drum machines, computers and the influence of rap have drastically changed the original sound of reggae, this South African superstar's modern roots style comes across like a breath of fresh air.

Dube (pronounced doo-bay) is without doubt one of reggae's greatest composers, continually offering well- crafted songs comprised of soothing, offbeat rhythms. His backing band, The Slaves, are as tight as ever, mixing in bursts of power to compliment their slow-motion sound while the trio of female vocalists offer a nice contrast to Dube, who once again delivers impassioned vocals in his Peter Tosh-like style.

From the title track, this powerfully evocative lyricist sings over a smooth, easy melody:

"Bob Marley said 'How long shall they kill our prophets while we stand aside and look,'
but little did he know that eventually the enemy will stand aside and look
while we slash and kill our own brothers."

In the anthem, "Different Colors/One People," Dube preaches to politicians:

"(People) were created in the image of God, and who are you to separate them?
Bible says he made man in his image, but it didn't say if he was black or white.
You look at me you see Black, I look at you I see White.
Now is the time to kick that away and join me in my song.
We are different colors/one people..."

More examples of his prowess could easily be cited, but the simple fact is that Lucky Dube is one of the most talented artists on the scene today. He's deserving of international stardom and the 10 tunes on "Victims," from the poignant "You Know (Where To Find Me)" to the rollicking "Keep On Knocking" to the raw power of "Soldiers Of Righteousness," show why. If you're seeking exceptional reggae - with meaning - this 90's version of the roots style will surely satisfy.




MAIN PAGE

SKANK RECORDS

FREE SKANK SAMPLER

SKANKWEAR

NEW RELEASES

CD REVIEWS

SKANK RADIO

MYSPACE

ARTICLES

POSITIVE VIBES ON KDHX

CONCERT REVIEWS

FAVORITE LINKS

GET IN TOUCH

WHO IS PROFESSOR SKANK?