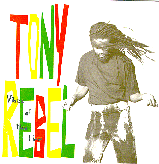 TONY REBEL
Vibes Of The Time
(Chaos/Columbia)

This originally ran in the St. Louis Post Dispatch in 1993.

When Tony Rebel opens his major label debut by singing "a fresh DJ is coming and heading for number one," it's not just an idle boast. This Jamaican rapper resists the common use of slackness, instead delivering over one hour of intelligent, thought-provoking lyrics. The result is indeed catapulting "Vibes Of The Time" all the way to the top (in fact, it's currently at number one on the CMJ "New World Music" chart).

Only a handful of the 14 songs can truly be classified as traditional reggae. The remaining tracks range from funk to soul to hip hop to relentless reggae rap. Each song works, though, in part because of the infectious hooks, but mostly because of Rebel's magical way with words and his distinctive Jamaican vocals.

Simply put, Tony Rebel is one of the most proficient lyricists in modern music. His songs are always well prepared with thoughtful, conscious themes; the message in "One Day," set to a classic roots rhythm, being just one example:

You might not be able to buy a house upon the hillside
Find it difficult just to purchase a ride
But you can live 'pon the flat, take a bus and still survive
All you got to do is get yourself organized
'Cause the wickedest thing is when you don't have hope and you're full of despair
and you receive and get deceived
and then you just don't believe that you can reach somewhere...
But you must learn and stay firm and keep your goal in sight
Get up, stand up, live up and fight with all your might
and one day, one day me say your future will [be] bright.

Seven of Jamaica's top producers helped create the clean 90's sound found on this release. Some of the tunes - especially the more furious raps - are initially difficult to follow, but the lyrics always merit repeated listenings. Especially if you take your music seriously, but even if you don't, "Vibes Of The Time" is a catchy non-stop lyrical barrage from a talent whose time has come.






MAIN PAGE

SKANK RECORDS

FREE SKANK SAMPLER

SKANKWEAR

NEW RELEASES

CD REVIEWS

SKANK RADIO

MYSPACE

ARTICLES

POSITIVE VIBES ON KDHX

CONCERT REVIEWS

FAVORITE LINKS

GET IN TOUCH

WHO IS PROFESSOR SKANK?