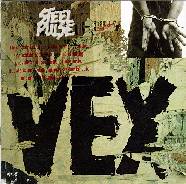 STEEL PULSE
Vex
(Mca)

This originally ran in the St. Louis Post Dispatch in 1994.

Steel Pulse is back with a vengeance. "Vex," their tenth release (and fourth on MCA) is a powerful recording full of engaging rhythms and conscious lyrics.

Following the opening track, an excellent collaboration with DJ Tony Rebel called "Bootstraps," "Back To My Roots" sets the stage for the re-emergence of this popular British reggae band.

This outstanding cut contains insightful lyrics from leader David Hinds:

"We took that commercial road, searching for some fame and gold,
and gained the whole wide world, and almost lost our souls.
Some say we should have led the way, taken over from Bob Marley...
so here's my promise to everyone, I'll serve the sufferer's from this day on...
it's time to go back...to my roots."

And go back to his roots he does. The 12 tunes on "Vex" are well-crafted fusions of pop, American and Jamaican rap and modern reggae with sincere messages. Each track has infectious hooks with standout cuts being "Islands Unite," "In My Life," "New World Order," No Justice No Peace" and the above-mentioned "Bootstraps" and "Back To My Roots" (there are also two dubs, including "Dub To My Roots").

From the foreboding cover art to the exceptional self-produced sound, this is an excellent package. Check it out for yourself and see why "Vex" is one of the year's best releases.






MAIN PAGE

SKANK RECORDS

FREE SKANK SAMPLER

SKANKWEAR

NEW RELEASES

CD REVIEWS

SKANK RADIO

MYSPACE

ARTICLES

POSITIVE VIBES ON KDHX

CONCERT REVIEWS

FAVORITE LINKS

GET IN TOUCH

WHO IS PROFESSOR SKANK?