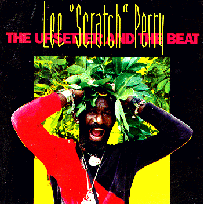 LEE PERRY
The Upsetter And The Beat
(Heartbeat)

This originally ran in the St. Louis Post Dispatch in 1992.

The madman is back! "The Upsetter," Lee Perry, has reunited with "The Beat," producer Clement Dodd, to release a strange concoction of tunes using classic - and I mean classic - Studio One rhythms.

Perry's sound is harsh, as his vocal style consists more of ranting and raving than actually "singing" (he's best known as a legendary reggae producer, and amazingly even produced one of rock n' roll's most powerful records, "Complete Control," by The Clash). Even though his delivery is unusual, the twelve tunes here somehow work. The well-known rhythms give the music a certain familiarity, while Perry's incoherent rambling makes things interesting, to say the least.

"The Upsetter and The Beat" is worth a listen. Lee Perry's style may not be for everyone, but this important figure in reggae music cannot be ignored.






MAIN PAGE

SKANK RECORDS

FREE SKANK SAMPLER

SKANKWEAR

NEW RELEASES

CD REVIEWS

SKANK RADIO

MYSPACE

ARTICLES

POSITIVE VIBES ON KDHX

CONCERT REVIEWS

FAVORITE LINKS

GET IN TOUCH

WHO IS PROFESSOR SKANK?