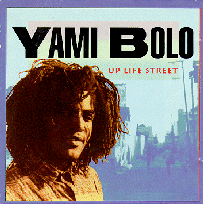 YAMI BOLO
Up Life Street
(Heartbeat)

This originally ran in the St. Louis Post Dispatch in 1992.

Yami Bolo is one of many new reggae artists worthy of attention. He's been making a name for himself the past few years now, and has justifiably developed quite a following.

Sounding like a mix between well-known singers Jr. Reid and Ken Boothe, Yami takes their influences and injects his own style. The result is a knockout. From the militant opening track,"Blood A Run" (which was a big hit in the U.K.), to the thoughtful "Mama Cries," these 10 new tracks give us some of this talented singer's best work. You'll even find some harmony vocals by superstars Sugar Minott and Leroy Sibbles.

One listen to Yami Bolo and you're hooked. The captivating rhythms, conscious lyrics, and vocal delivery make "Up Life Street" one of the better releases of 1992. Check it out.






MAIN PAGE

SKANK RECORDS

FREE SKANK SAMPLER

SKANKWEAR

NEW RELEASES

CD REVIEWS

SKANK RADIO

MYSPACE

ARTICLES

POSITIVE VIBES ON KDHX

CONCERT REVIEWS

FAVORITE LINKS

GET IN TOUCH

WHO IS PROFESSOR SKANK?