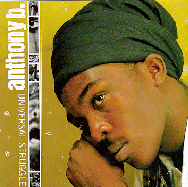 ANTHONY B
Universal Struggle
(Star Trail/Vp)

This was in Reggae Report in 1998.

"Universal Struggle," Anthony B's excellent sophomore effort on VP records, comes on the heels of Buju Banton's superb "Inna Heights," and solidifies VP's claim to be "miles ahead in reggae music."

People can call these releases "dancehall" (since both artists are closely associated with that style) but in reality they sound more like modern roots, as each disc runs rampant with catchy, well-crafted, intelligent tunes.

Beginning with the fantastic "Storm Winds" (and closing with its smooth instrumental version, "Storm Sax"), "Universal Struggle" contains seventeen tracks and just over one hour of crucial sounds (the CD has five bonus songs as the cassette only has twelve tunes).

Continuing the current and positive trend of "dancehall," these songs are all of the "conscious" variety, as Anthony B once again has much to say, although without a lyric sheet the words are often difficult to ascertain. Sometimes that's the most satisfying part, however, finally figuring out his messages in such favorites as "Heavy Load," "Seek Jah First," "Waan Back" (on Gregory Isaac's "Night Nurse" rhythm), "The Mockingbird," "Sunburnt Faces," "Nah Vote Again," "Marley Memories," "Rastaman School" and the title track. You'll also find a duet with Luciano called "Zinc Fence Jungle."

As was the case with his VP debut, "So Many Things...," Richard "Bello" Bell of Star Trail once again is the producer (although Anthony B and Jimmy Riley each produce one track apiece) and the sound - as usual - is clean and powerful with Anthony B's rough and distinctive vocals at the forefront.

This 21 year-old is a talented, youthful artist who is certain to help take Reggae into the next millenium and "Universal Struggle" clearly shows why. Beg, borrow or steal this one.






MAIN PAGE

SKANK RECORDS

FREE SKANK SAMPLER

SKANKWEAR

NEW RELEASES

CD REVIEWS

SKANK RADIO

MYSPACE

ARTICLES

POSITIVE VIBES ON KDHX

CONCERT REVIEWS

FAVORITE LINKS

GET IN TOUCH

WHO IS PROFESSOR SKANK?