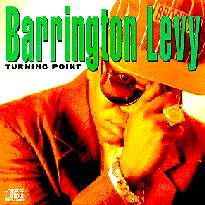 BARRINGTON LEVY
Turning Point
(Profile)

This originally ran in the St. Louis Post Dispatch in 1992.

For well over a decade, Barrington Levy has been a mainstay on the reggae music scene. Possessing one of the most outstanding voices in any musical genre, Barrington has given us an abundance of classic material. His latest release delivers more of the same.

"Turning Point" shows us this talented singer's versatility. From the uptempo "Dancehall Rock," featuring DJ Cutty Ranks (a take-off on Bob Marley's "Trenchtown Rock"), to his excellent rendition of the ballad "Don't Throw It All Away" (which should give him national exposure soon on the video channels), Barrington has something for everyone. He even revives one of his wickedest rhythms ("Teach The Youth") and turns it into "Mandella Free."

The production is slick, the songs are catchy, the singing is exceptional. Keep your eyes (and ears) open for Barrington Levy in the 90's. This release may well be his "Turning Point," and catapult him to international stardom.






MAIN PAGE

SKANK RECORDS

FREE SKANK SAMPLER

SKANKWEAR

NEW RELEASES

CD REVIEWS

SKANK RADIO

MYSPACE

ARTICLES

POSITIVE VIBES ON KDHX

CONCERT REVIEWS

FAVORITE LINKS

GET IN TOUCH

WHO IS PROFESSOR SKANK?