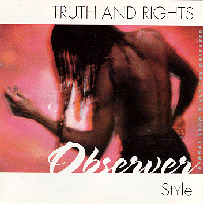 VARIOUS ARTISTS
Truth And Rights Observer Style
(Heartbeat)

This originally ran in the St. Louis Post Dispatch in 1994.

Heartbeat records has delved into the reggae archives once again, this time releasing another in a long line of outstanding compilations.

The 16 tracks on "Truth and Rights" come from the 1970's and were produced by Niney the Observer. With superb backing by Jamaica's premiere session musicians of the day, the Soul Syndicate Band, the sound and selection are both excellent. A handful of songs are easily found on other CDs, but the majority of tracks are obscure classics; an extended mix of "Warrior" by Johnny Clarke, "False Rasta" by Delroy Wilson, Junior Delgado's "Long Way," and killers from Lee Perry, Freddie McGregor, the Heptones, the Meditators and Niney himself.

A previous Heartbeat compilation, "Observer Station," superbly showcased some of Niney's production talents. "Truth And Rights Observer Style" is another recommended disc full of righteous lyrics and vintage rhythms from one of reggae's most respected producers.






MAIN PAGE

SKANK RECORDS

FREE SKANK SAMPLER

SKANKWEAR

NEW RELEASES

CD REVIEWS

SKANK RADIO

MYSPACE

ARTICLES

POSITIVE VIBES ON KDHX

CONCERT REVIEWS

FAVORITE LINKS

GET IN TOUCH

WHO IS PROFESSOR SKANK?