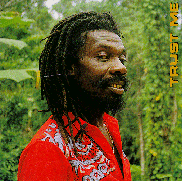 CULTURE
Trust Me
(Ras)

This is in the current issue of Reggae Report.

It's hard to believe it's been twenty years, but in 1977 Culture released one of the greatest debuts in the history of modern music, the monumental "Two Sevens Clash."

Since then, this classic group - led by the one and only Joseph Hill - has continued to release quality records, with "Trust Me" being no exception. The buzz around the reggae industry is that this new disc tops last year's excellent "One Stone," and the buzz is right on.

Starting off with the powerful title track, this is almost one full hour of crucial modern roots. Hill's distinctive and authentic vocals sound as rough as ever, and along with harmony from longtime ally Albert Walker and backing from the Dub Mystic band, "Trust Me" is one of the year's best releases.

All songs were written and produced by Hill and all are superb, but especially check out "Riverside" (also on video), "Outcast," "Writing On The Wall," "Dirty Tricks," "Walk With Jah," "Babylon A Weep," the title track and "Chant Down Babylon" (which rides Bob Marley's "Mellow Mood" rhythm). You'll also find modernized versions of old classics "Black Starliner" and "Jah Pretty Face" - as well as a nice niahbingi mix of the latter.

Hill remains a true Rasta visionary, as his songs encompass such traditional topics as Marcus Garvey, Zion, Babylon and Haile Selassie. In fact, there are twenty six pictures (count em!) of Selassie - as well as a 1966 speech he gave in Jamaica - found throughout the packaging.

Joseph Hill is as righteous as they come and Culture is as good as they get. Look for a live album to be released next spring, but until then "Trust Me" and pick up this CD.






MAIN PAGE

SKANK RECORDS

FREE SKANK SAMPLER

SKANKWEAR

NEW RELEASES

CD REVIEWS

SKANK RADIO

MYSPACE

ARTICLES

POSITIVE VIBES ON KDHX

CONCERT REVIEWS

FAVORITE LINKS

GET IN TOUCH

WHO IS PROFESSOR SKANK?