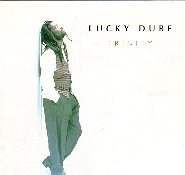 LUCKY DUBE
Trinity
(Tabu/Motown)

This originally ran in the St. Louis Post Dispatch in 1995.

Lucky Dube, South Africa's reigning reggae superstar, once again delivers a disc full of compelling modern roots.

"Trinity" is just under one hour in length and is Dube's ninth release since he gave up a successful career as a traditional Zulu singer 10 years ago to pursue his love of reggae music.

For those unfamiliar with this incredibly talented artist, Dube (pronounced "doo bay") uses a trio of female harmony singers, has a passionate delivery reminiscent of the late Peter Tosh and continues to offer the world his thoughtful messages over soothing, yet extremely powerful, slow motion rhythms. Since his initial release, "Rasta Never Dies," he has remained true to his reggae roots, whereas many of his contemporaries have embraced the more current rap and dancehall styles.

"Trinity" does have a few surprises, most notably the addition of some jazz and gospel into a few of the numbers as well as the unconventional closing track. Dube makes these work, however, as he blends them perfectly into this latest release.

He's also a gifted writer and continues to compose complex and infectious songs, with well constructed and evocative lyrics. On the opener, the uplifting "Feel Irie," Dube urges everyone not to worry because, as he humorously reminds us:

"People had troubles since the Pope was an altar boy,
people had worries from when the Dead Sea was only critical."

On the title track, a mesmerizing tune which features the unusual yet outstanding addition of strings by the Soweto String Quartet, Dube deals with racial stereotypes:

"When you saw a black man you saw a criminal,
when I saw a white man I saw an oppressor.
But now that we know where we went wrong, let's unite...
that is why they call me Trinity,
cause my game is unity."

Other standouts include "My Brother, My Enemy," "Puppet Master," "Life In The Movies," and "Affirmative Action."

Dube's sincere and recurring theme of one love must be respected. For the first time, he also co-produces (with long time ally Richard Siluma) and the results are a full and satisfying sound.

Lucky Dube continues to release exceptional recordings and the excellence of this latest CD once again proves why this superb talent is a major force in today's reggae music.






MAIN PAGE

SKANK RECORDS

FREE SKANK SAMPLER

SKANKWEAR

NEW RELEASES

CD REVIEWS

SKANK RADIO

MYSPACE

ARTICLES

POSITIVE VIBES ON KDHX

CONCERT REVIEWS

FAVORITE LINKS

GET IN TOUCH

WHO IS PROFESSOR SKANK?