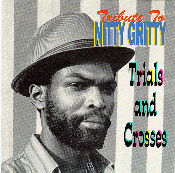 NITTY GRITTY
Tribute to Nitty Gritty:
Trials and Crosses
(Vp)

This originally ran in the St. Louis Post Dispatch in 1994.

Nitty Gritty is another in a long line of talented reggae singers who have labored in relative obscurity. This tribute (he was fatally shot in 1991) is a fine collection of his work.

In the mid-80's, thanks in large part to the availability of digital production and drum machines, the computer style of reggae (or "dancehall") came into prominence.

The 14 songs on this disc, produced by the legendary King Jammy and recorded at his famed studio, forever capture Gritty's cutting-edged sound. His mellow vocals mesh perfectly with the inside-out rhythms as he sings in his unique and soulful style.

From such classics as "Sweet Reggae Music" and "Hog Ina Minty" through "Trials and Crosses," this is computer reggae at its finest. If you're unfamiliar with Nitty Gritty, make sure to check out this recording. It's an excellent introduction to this talented, and sorely missed, Jamaican vocalist.






MAIN PAGE

SKANK RECORDS

FREE SKANK SAMPLER

SKANKWEAR

NEW RELEASES

CD REVIEWS

SKANK RADIO

MYSPACE

ARTICLES

POSITIVE VIBES ON KDHX

CONCERT REVIEWS

FAVORITE LINKS

GET IN TOUCH

WHO IS PROFESSOR SKANK?