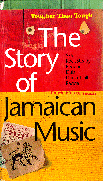 VARIOUS ARTISTS
THE STORY OF JAMAICAN MUSIC
(Mango)

This originally ran in the St. Louis Post Dispatch in 1993.

In a package similar to Bob Marley's "Songs of Freedom" (four discs, an informative 64-page booklet and over five hours of music), "Tougher Than Tough" is a crucial release which chronicles the last 35 years of Jamaican music.

Unlike Marley's box set, there are no alternate takes or rarities found in these 95 tracks; just some of the greatest songs ever recorded. Each CD covers a separate period in the history of this island's remarkable sound. Disc One is entitled "Forward March" and focuses on the period from 1958-1967, followed by "Reggae Hit The Town 1968-1974," "Natty Sing Hit Songs 1975-1981" and "Dance Hall Good To We 1982-1993."

The first disc is a fascinating journey back in time. While much of the Caribbean was listening to jazz, calypso, mento and R&B, Jamaica was establishing its musical identity with the unique uptempo sounds of ska. Classics from artists in their formative years, such as the Wailers, Maytals and Jimmy Cliff, are forever preserved here. By disc's end, the music's fast pace had slowed down to what had become known as rock steady.

With disc two, the early stages of reggae is showcased, when a simple guitar riff was added to the rock steady beat. This proceeded to chop the pace of the music and resulted in a style that's still making waves today. Desmond Dekker's 1968 hit, "Israelites" (which made #9 on the American charts) starts things off. From there some true gems are featured, including Eric Donaldson's "Cherry Oh Baby," Delroy Wilson's "Better Must Come" and "Blood and Fire" by Niney.

Disc Three is pure rasta, from the "rockers" style of the Mighty Diamonds' "Right Time," to "Police and Thieves," "War Ina Babylon" and "Two Sevens Clash;" by Junior Murvin, Max Romeo and Culture, respectively.

The final disc features tunes from the original dancehall sounds of the early 80's up to the present onslaught of DJs. Starting off with the sweet sounds of Gregory Isaacs' "Night Nurse," it ends with last year's smash hit, the rough cover of "Oh Carolina" by Shaggy.

Although this deep and eclectic collection is well done, it only begins to do justice to Jamaica's musical legacy. And by having a few artists with two and even three selections, many others who were equally deserving were ultimately excluded. Just a few of those groups include the Itals, Abyssinians, Gladiators, Wailing Souls, Israel Vibration and the Meditations.

Regardless of the omissions, "Tougher Than Tough" still qualifies as an essential package. If you're unfamiliar with the excellence, originality and sincerity of Jamaican music - and especially if you think that reggae consists solely of music from the legendary Bob Marley - this important package will serve as an invaluable introduction to this island's unique and timeless music.






MAIN PAGE

SKANK RECORDS

FREE SKANK SAMPLER

SKANKWEAR

NEW RELEASES

CD REVIEWS

SKANK RADIO

MYSPACE

ARTICLES

POSITIVE VIBES ON KDHX

CONCERT REVIEWS

FAVORITE LINKS

GET IN TOUCH

WHO IS PROFESSOR SKANK?