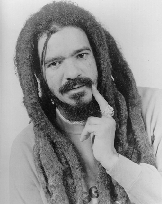 This originally ran in the St. Louis Post Dispatch in 1995.

The traveling reggae extravaganza, known simply as "Sunsplash," is now in its second decade of "uniting the world through music." It rolls into town for a return engagement this Wednesday night at the Riverport Amphitheater.

This year's performance is scheduled to include the following acts: Christafari, Junior Tucker, Sister Carol, Buju Banton, Worl-A-Girl, Wailing Souls, Aswad and Freddie McGregor (who was a late substitute for vocalist Dennis Brown). Skool will once again provide the musical backing for the majority of artists and the master of ceremonies for the 11th straight year will be Tommy Cowan.

Cowan, a veteran singer, producer and promoter, is one of Jamaica's great treasures. He originally starred in the rock steady group, The Jamaicans, in the mid '60s and has also produced classic recordings from such artists as Ras Michael, Jacob Miller, Winston McAnuff and Israel Vibration. He currently runs the Jamaican-based Talent, Inc., managing such artists as Carlene Davis, Brian and Tony Gold, John Holt, Dobby Dobson, Pat Kelly and from this year's Sunsplash, Junior Tucker and Freddie McGregor.

On a recent day off from his hectic schedule, this "MC extrodinaire" shared his thoughts concerning this year's tour.

"Sunsplash is on the road again, bringing great reggae music to all the people. We started May 3rd in Japan, played for about two weeks, took a few days off, then started our U.S. tour in Las Vegas on May 26th. We'll be touring non-stop through mid-July."

Cowan is one of the most charismatic MCs one will ever encounter, and when asked what his job entails, he answered with sincerity.

"The work is spiritual and comes from my heart. Each day I go out there, say a prayer and hope to do my best.

"My job is to communicate. I like to feel that I have made people feel better, and maybe made them a better person. Sometimes I'm not exactly sure what I'll do between acts. It's the Lord who moves me. I always pray, but today I might sing, give a funny joke, tomorrow I might not. It's how the spirit moves.

"When we went to Japan we went to Hiroshima for the first time and I fully realized what took place when an atomic bomb is dropped. So this year it's very much on my heart that I must talk to people about weapons of mass destruction and how we must stop it.

"I like to leave a message of hope. A lot of kids across the country, maybe the music they hear tends to teach violence and disrespect. I just focus on the positive things. I want the people to know that tomorrow can be a better day. We can look forward to better days with our brothers and sisters."

One of those "better days" will undoubtedly be when reggae fans in town once again unite and support this major event. There will be cultural booths, Jamaican food and drink and, of course, great reggae music.

The evening promises to be a memorable one as there will be roughly 5 1/2 hours of continuous reggae rhythms, beginning promptly at 6 p.m. Cowan is sure to keep things lively and flowing and parted with these words:

"Let's hope that everybody comes out because it will be such a special evening for all the people. There will be such a great vibe. It's very spiritual and positive and can only be for the betterment of life."

Cowan's thoughts on this year's line-up:

CHRISTAFARI: "For about seven years they'd turn up at the Reggae Sunsplash in Jamaica, and on each occasion they'd give me a Bible. I never believed that those kids would one day be entertainers, because I just saw them as spiritual brothers, but they're wonderful."

SKOOL: "They're the most competent set of musicians out of Jamaica in recent history. Of course they'll be backing many of the artists and soon will come out with an album called 'Skool In Session.'"

WORL-A-GIRL: "It's so nice to have a girl vocal group functioning the way they do. They put on a fantastic choreographed show. It's really nice to see."

JUNIOR TUCKER: "He's a dynamic performer. He was the top male vocalist in '93 and '94 out of Jamaica, winning numerous awards. Many record companies have expressed interest in him and I feel he's ready to go to worldwide."

SISTER CAROL: "I love Sister Carol. I call her Mother Culture. She teaches from that stage with strictly cultural lyrics."

BUJU BANTON: "Buju hasn't joined the tour yet, he'll be with us in June. He's a DJ and the fact of the matter is that American rap, or DJ, music had its origins in Jamaica many moons ago. Count Machuki, he was the first one, there was daddy U-Roy, and now there's Buju - he's the 'Voice Of Jamaica.'"

FREDDIE MCGREGOR: "He's the prince of the world's dancehalls because he has given so many hit songs to the dancehalls and to all reggae lovers. I call him the 'Hitmaker From Jamaica.'"

WAILING SOULS: "These brothers grew up in Trenchtown with Bob Marley, under the same influence. They're some of the greatest vocalists ever and they'll play classics like "Things and Time," "Jah Jah Give Us Life To Live" and 'Shark Attack.'"

ASWAD: "They'll finish the show. These brothers from England have been together for two decades and they were recently nominated for the best reggae album of the year [Rise And Shine]."






MAIN PAGE

SKANK RECORDS

FREE SKANK SAMPLER

SKANKWEAR

NEW RELEASES

CD REVIEWS

SKANK RADIO

MYSPACE

ARTICLES

POSITIVE VIBES ON KDHX

CONCERT REVIEWS

FAVORITE LINKS

GET IN TOUCH

WHO IS PROFESSOR SKANK?