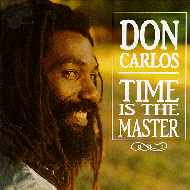 DON CARLOS
Time Is The Master
(Ras)

This originally ran in the St. Louis Post Dispatch in 1992

This greatest hits package from one of the original members of Black Uhuru gives us over 60 minutes of outstanding reggae music.

Produced by Bunny Lee, recorded at King Tubby's, and mixed by Scientist and Professor (no relation!), these 20 tracks from the late 70's are timeless. With backing by the Aggrovators (one of the premiere studio bands at the time), this release contains one of my all-time favorites, "Johnny Big Mouth," as well as "Lazer Beam," "Ababajoni," "Spread Out," and cover versions of "Better Must Come" and "Rivers of Babylon."

"Time is the Master" is essential listening for reggae fans. If you're unfamiliar with Don Carlos, this is a great way to introduce yourself to one of reggae's most underrated artists.






MAIN PAGE

SKANK RECORDS

FREE SKANK SAMPLER

SKANKWEAR

NEW RELEASES

CD REVIEWS

SKANK RADIO

MYSPACE

ARTICLES

POSITIVE VIBES ON KDHX

CONCERT REVIEWS

FAVORITE LINKS

GET IN TOUCH

WHO IS PROFESSOR SKANK?