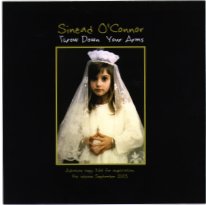 SINEAD O'CONNOR
Throw Down Your Arms
I got this as a promo, so really don't know much about the particulars - who's playing, etc. - but I'll tell ya, it's 47 1/2 minutes of crucial reggae music.
I know Sly and Robbie are involved, but that's about it. Regardless, there is some top-notch musicianship throughout.
Apparently Sinead O'Connor's been a big fan of reggae and Burning Spear for years. The 12 tunes she picked to cover are all classics, and ya gotta give her nuff respect for that.
The cd starts off with a haunting rendition of Spear's "Jah Nu Dead." It showcases O'Connor's stunningly beautiful voice. As I mentioned before, the musicianship is top-notch, and although her voice is smooth as silk, on a few tunes it just doesn't work for me. In fact I'd much rather hear the original singer's vocals, but it's still cool.
She's performed some of these tunes on national TV talk shows - maybe you've seen her - so she's doing a fantastic service to reggae music by bringing it more exposure to the world. Even though - like I said - I'd rather hear the originals, "Throw Down Your Arms" is still an excellent release.
For more info, her website is at SINEAD O'CONNOR






MAIN PAGE
SKANK RECORDS
FREE SKANK SAMPLER
SKANKWEAR
NEW RELEASES
CD REVIEWS
SKANK RADIO
MYSPACE
ARTICLES
POSITIVE VIBES ON KDHX
CONCERT REVIEWS
FAVORITE LINKS
GET IN TOUCH
WHO IS PROFESSOR SKANK?