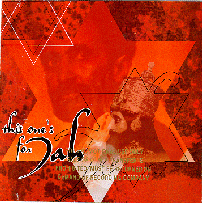 MYSTIC REVEALERS
This One's For Jah
(Mesa)

This originally ran in Reggae Report in 1997.

The Mystic Revealers, after three studio recordings on Ras records, have switched to the Mesa Reggae label. Don't worry, though, as once again they've released an excellent disc, "This One's For Jah."

As the title suggests, lead singer/songwriter Billy Mystic once again takes the conscious and spiritual road, as his songs deal with the true Rastafarian spirit.

Things start off with a bang, as "All Over The World" is one of Mystic's strongest songs to date. It's a fierce rocker and is followed by the outstanding "When You Feel It" and "I'm Gonna Tell Ya" (with DJ Anthony B). Other standouts include "Try, Try," "Sheshemani," "Prophecy" and the beautiful ballad, "For A Long Time." Throughout the CD, Mystic's passionate vocals remain silky smooth while meshing perfectly with his band's tight sound.

You'll find 14 tracks (it's listed as 13, but there's a surprise bonus track at the end - a version of "I'm Gonna Tell Ya" without Anthony B) and the running time is just over 60 minutes of modern Roots with a pop edge.

Thankfully Mesa has also included a lyric sheet. Although Mystic writes some of the catchiest melodies in any genre, his lyrics are where he really shines. The man has a way with words, be it love songs, praising Haile Selassie or preaching words of wisdom and encouragement.

The following lyrics from "Musical Garden" basically sum up what Mystic's all about: "When I write a song I want it to be strong and have a meaning that can make you want to cry or fight until you die for what you believe in."

Heavy words from a heavy poet. "This One's For Jah" is for ALL fans of conscious, modern Reggae. Check it out.






MAIN PAGE

SKANK RECORDS

FREE SKANK SAMPLER

SKANKWEAR

NEW RELEASES

CD REVIEWS

SKANK RADIO

MYSPACE

ARTICLES

POSITIVE VIBES ON KDHX

CONCERT REVIEWS

FAVORITE LINKS

GET IN TOUCH

WHO IS PROFESSOR SKANK?