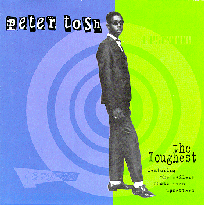 PETER TOSH
The Toughest
(Heartbeat)

This originally ran in the St. Louis Post Dispatch in 1996.

Peter Tosh, along with Bob Marley and Bunny Wailer, was a foundation member of the Wailers back in 1963. He is truly one of reggae music's all-time greats and "The Toughest," a new 18 song CD on the Heartbeat label, showcases the majority of his earliest work.

The first 13 tracks encompass all but two of Tosh's recordings for Clement Dodd at Studio One. These collector items begin with "Hoot Nanny Hoot" and roll through "Maga Dog" (with the interesting use of the "Simmer Down" rhythm at its outset), "Shame and Scandal," "Sinner Man," The Temptation's "Don't Look Back" and the title track. Each song is a ska or rock steady scorcher; a reminder of Jamaica's sizzling sounds from over thirty years ago.

The remaining six tunes come from Tosh's work with producer Lee Perry. The music is raw, hypnotic and offbeat, and shows how reggae sounded during its infancy in the latter part of the '60s. The tracks include "Rightful Ruler" (featuring U-Roy's first vocal effort), "400 years," "No Sympathy," "Downpresser" and two versions of "Brand New Secondhand." Harmonies from Bunny and Bob compliment Tosh's baritone, and many of Jamaica's premiere musicians help make these sounds remain timeless.

Peter Tosh was much more than just a member of reggae's greatest supergroup; he was also a proficient guitarist and exceptional solo artist whose life was unfortunately cut short during an apparent robbery attempt in 1987. "The Toughest" thankfully brings us this man's beginnings in a well-packaged, comprehensive disc containing many songs unavailable for decades. This important release is essential for all serious reggae fans.






MAIN PAGE

SKANK RECORDS

FREE SKANK SAMPLER

SKANKWEAR

NEW RELEASES

CD REVIEWS

SKANK RADIO

MYSPACE

ARTICLES

POSITIVE VIBES ON KDHX

CONCERT REVIEWS

FAVORITE LINKS

GET IN TOUCH

WHO IS PROFESSOR SKANK?