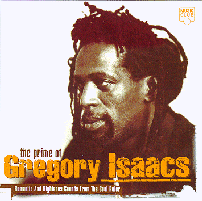 GREGORY ISAACS
The Prime Of Gregory Isaacs
(Music Club)



Another fine mid-price release from Music Club is "The Prime Of Gregory Isaacs" subtitled "Romantic And Righteous Sounds From The Cool Ruler."

With 16 tracks and just over 56 minutes, this CD collects some of his early recordings from his Trojan recordings "In Person" and "All I Have Is Love," from 1975 and 1976, respectively. Among the tracks are three extended dub versions, "My Time," "Loving Pauper" and personal favorite, "Never Be Ungrateful."

The songs on this disc truly show why Gregory Isaacs is the "Cool Ruler." Check it out.




To check out Music Club's website... MUSIC CLUB.






MAIN PAGE

SKANK RECORDS

FREE SKANK SAMPLER

SKANKWEAR

NEW RELEASES

CD REVIEWS

SKANK RADIO

MYSPACE

ARTICLES

POSITIVE VIBES ON KDHX

CONCERT REVIEWS

FAVORITE LINKS

GET IN TOUCH

WHO IS PROFESSOR SKANK?