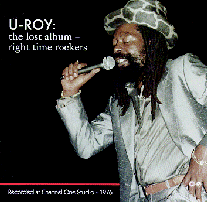 U-ROY
The Lost Album - Right Time Rockers
(Sound System)


This is a CD that was released right before the end of 1998 and it is a killer.

"The Lost Album - Right Time Rockers" was recorded at Channel One in 1976 and is basically U-Roy doing some crucial toasting over tracks from the Mighty Diamonds' classic "Right Time" album.

As most everyone knows, these are some of the wickedest rockers rhythms to ever be created, as the Revolutionaries (with Sly and Robbie) never sounded better.

The liner notes state: " These recordings were not intended for general release, but were "specials" originally intended for exclusive use in the Jamaican sound systems. Eventually much of the material was released in Jamaica on a very rare limited edition lp...Among the classic Channel One riddims reworked by Hugh Roy on this album are "Right Time," "Why Me Black Brother," "I Need A Roof," "Have Mercy" and others by the Mighty Diamonds. He also conquers the "Ali Baba" riddim by Jackie Edwards and the "Dress Back Wicked" riddim by Earth & Stone."

"The Lost Album" has 12 tracks and only clocks in at 36 1/2 minutes, but after only one listen, you'll know you'll need to get it.






MAIN PAGE

SKANK RECORDS

FREE SKANK SAMPLER

SKANKWEAR

NEW RELEASES

CD REVIEWS

SKANK RADIO

MYSPACE

ARTICLES

POSITIVE VIBES ON KDHX

CONCERT REVIEWS

FAVORITE LINKS

GET IN TOUCH

WHO IS PROFESSOR SKANK?