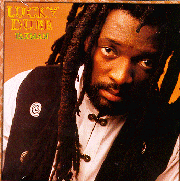 LUCKY DUBE
Taxman
(Shanachie)

This originally ran in Reggae Report in 1997.

Lucky Dube is one of the greatest artists in the history of Reggae music and the recent release of "Taxman" only solidifies that fact.

This South African superstar has crafted complex and infectious songs since his first Shanachie release almost 10 years ago. The dozen tracks and just over one hour of modern Roots on this disc is no exception.

There are no surprises, just the same great sound the world has come to expect from the man many have called the next Bob Marley. Kicking off with "Guns and Roses," it's immediately apparent that Dube is once again in fine form. His backing band is exceptionally tight, his passionate delivery at times sounds incredibly like Peter Tosh and his lyrics - as usual - are conscious and evocative ("our differences are world's apart, just like guns and roses").

"Taxman" finds Dube producing for the first time (he co-produced his last record) and he brings forth a full and powerful sound. His female harmony vocalists again add a great dimension, as do the scorching guitar work, the Soweto String Quartet, the horns - you name it, everything works.

Although the musicianship is outstanding, things wouldn't connect without the extraordinary composing talents of Dube. The way this man writes smooth, offbeat songs - then adds unexpected bursts of power - never ceases to amaze. Each song is exceptional, but especially check out the aforementioned "Guns and Roses," the title track, "Is This The Way" and "You've Got A Friend." Some of the best modern Reggae you'll ever hear.

Lucky Dube is a remarkable artist and when it's all said and done, "Taxman" will go down in history as yet another exceptional release from one of the genre's most exceptional talents.






MAIN PAGE

SKANK RECORDS

FREE SKANK SAMPLER

SKANKWEAR

NEW RELEASES

CD REVIEWS

SKANK RADIO

MYSPACE

ARTICLES

POSITIVE VIBES ON KDHX

CONCERT REVIEWS

FAVORITE LINKS

GET IN TOUCH

WHO IS PROFESSOR SKANK?