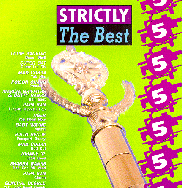 VARIOUS ARTISTS
Strictly The Best, Volumes 5 & 6
(Vp)

This originally ran in the St. Louis Post Dispatch in 1992.

Reggae in Jamaica thrives on singles, not albums. Numerous artists release outstanding 45's, yet have difficulty maintaining that quality for an entire album. That's where "Strictly The Best" comes in. This series has been providing us with the best of current reggae since 1989, and with these two latest volumes, each containing 14 tracks, the trend continues.

Volume 5 is the rougher sounding of the two, giving us the Island's hottest DJ's. If you enjoy Shabba Ranks, this one's for you. It's in a reggae rap style, and is for the hard-core fan. Listening to non-stop DJ's for an extended period isn't for everyone, but in bits and pieces, this stuff will knock you out. Included is Mad Cobra's sensational #1 hit, "Tek Him," as well as killers by Tiger, Papa San, General Degree, and Shabba.

Volume 6 showcases a sound more suitable to the casual reggae listener. Here you'll find the latest from such singers as Frankie Paul, Ken Boothe, Johnny Osbourne, Half Pint, and Dennis Brown. The singing is exceptionally smooth, as are the rhythms. This is a sound that will appeal to the masses. Be sure to definitely check out "Gal Wine" by Chacka Demus and Pliers.

Jamaica is a hotbed of talent, and these two releases present a good overview of the current reggae scene. Each volume is well done, and both are recommended. Get a taste of what's happening, and find out what all the fuss is about.






MAIN PAGE

SKANK RECORDS

FREE SKANK SAMPLER

SKANKWEAR

NEW RELEASES

CD REVIEWS

SKANK RADIO

MYSPACE

ARTICLES

POSITIVE VIBES ON KDHX

CONCERT REVIEWS

FAVORITE LINKS

GET IN TOUCH

WHO IS PROFESSOR SKANK?