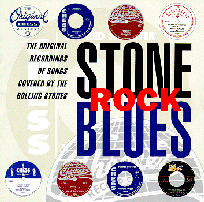 VARIOUS ARTISTS
Stone Rock Blues
(Mca/Chess)

This originally ran in the St. Louis Post Dispatch in 1994.

One of the hippest releases of the year is "Stone Rock Blues" on MCA Records. Subtitled "the original recordings of songs covered by the Rolling Stones," the 18 tunes presented here give a good idea as to what Mick Jagger, Keith Richards and the boys listened to while growing up.

Two-thirds of these timeless tracks are courtesy of Chuck Berry and Muddy Waters. The seven Berry cuts are intense rockers from 1955-1961 and include "Carol," "Little Queenie," "Around and Around," "You Can't Catch Me," "Come On," "I'm Talking About You" and "Bye Bye Johnny."

The legendary Muddy Waters contributes five raw blues tracks from 1948-1956; "Look What You've Done," "I Just Want To Make Love To You," "Mannish Boy," "I Can't Be Satisfied" and a song the Stones never covered but which is included for obvious reasons, "Rollin' Stone."

The other artists found on this disc are Bo Diddley, Howlin' Wolf, Dale Hawkins, Buddy Holly and Arthur Alexander.

Throughout their career, the Stones covered enough other tracks to make a second volume an almost certain reality. In the meantime, this important release is sure to open up the ears of many Stones fans to some of the notable artists who greatly influenced these seminal British rockers.

The Rolling Stones have often been called the "world's greatest Rock 'n Roll band." Although that can be debated, what can't be is their excellent choice of covers. "Stone Rock Blues" is mandatory for all music collections.






MAIN PAGE

SKANK RECORDS

FREE SKANK SAMPLER

SKANKWEAR

NEW RELEASES

CD REVIEWS

SKANK RADIO

MYSPACE

ARTICLES

POSITIVE VIBES ON KDHX

CONCERT REVIEWS

FAVORITE LINKS

GET IN TOUCH

WHO IS PROFESSOR SKANK?