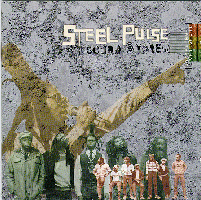 STEEL PULSE
Sound System: The Island Anthology
(Island Jamaica)

This originally ran in Reggae Report in 1997.

On the heels of some recent - and crucial - anthologies on the Island Jamaica label (Burning Spear, Aswad and Toots and the Maytals) comes this one from Steel Pulse.

After forming in 1974, this British Reggae band basically blasted out of the Punk Rock explosion three years later. They honed their craft as opening act on Bob Marley's European tour the following year and ultimately proceeded to release three superb albums on Island records.

This double CD contains well over two hours of that outstanding Reggae, though the package falls somewhat short in the creativity department.

The bottom line is that these two discs contain - in sequence and entirety - those first three albums, "Handsworth Revolution," Tribute To The Martyrs" and "Reggae Fever." The only difference is that four of the tunes ("Ku Klux Klan," "Sound System," "Babylon Makes The Rules" and "Heart Of Stone") are presented as killer 12" versions, and a few obscure tracks are included to separate each album: "Bun Dem" (the B-side of "Klan") "Nyah Love" (a live version from 1977) and a live rendition of "Macka Splaff" from 1978. The anthology closes with "Don't Give In," their final single on Island in 1980.

Regardless of the lack of rarities, the thirty songs and interesting liner notes makes this an excellent package. The sound is as smooth as it gets - with pristine harmonies and tight rhythms - and lead vocalist David Hinds proves to be one of the most conscious and talented lyricists on the planet.

If you already possess each of the aforementioned albums, this one will offer virtually nothing new. But if you don't, and want to hear what one of Reggae's greatest bands sounded like in their pre-"True Democracy" days, then this one is essential.






MAIN PAGE

SKANK RECORDS

FREE SKANK SAMPLER

SKANKWEAR

NEW RELEASES

CD REVIEWS

SKANK RADIO

MYSPACE

ARTICLES

POSITIVE VIBES ON KDHX

CONCERT REVIEWS

FAVORITE LINKS

GET IN TOUCH

WHO IS PROFESSOR SKANK?