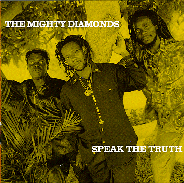 MIGHTY DIAMONDS
Speak The Truth
(Ras)

This originally ran in the St. Louis Post Dispatch in 1994.

After some recent lackluster releases, the Mighty Diamonds are back with one of their best efforts in years.

"Speak The Truth" is a self-produced disc which once again finds this talented vocal trio in top form.

Things kick off with the smooth, uptempo ska sounds of "Knock Knock" and from there it's just over 38 minutes of infectious, fast-paced modern reggae.

The best cuts include the above-mentioned song, "Gone Bad" (their first single and video), "Hey Mommy," "Surely," "Things You Do" and the title track.

Two others, "Live In Love" and "Why" are remakes, respectively, of "Planet Earth" and the classic, "Why Me Black Brother Why."

The Mighty Diamonds are currently celebrating their 25th year of recording, and on "Speak The Truth," their experience and expertise shows. This is an excellent release from one of reggae's all-time great groups.






MAIN PAGE

SKANK RECORDS

FREE SKANK SAMPLER

SKANKWEAR

NEW RELEASES

CD REVIEWS

SKANK RADIO

MYSPACE

ARTICLES

POSITIVE VIBES ON KDHX

CONCERT REVIEWS

FAVORITE LINKS

GET IN TOUCH

WHO IS PROFESSOR SKANK?