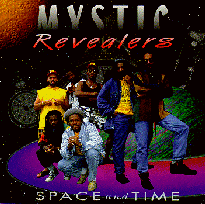 MYSTIC REVEALERS
Space And Time
(Ras)

This originally ran in Reggae Report in 1995.

"Space and Time," the Mystic Revealers' follow-up effort to "Jah Works," is another solid release from one of Jamaica's freshest bands.

Whereas many reggae artists use session musicians to record and tour, the Revealers are self-contained, consisting of Billy "Mystic" Wilmont on lead vocals and rhythm guitar, Nicky "Cymbal" Henry on drums, Leroy "Lion" Edwards on bass, lead guitarist Steve "Dad" Davis, keyboardist Paul "Scooby" Smith and percussionist Christopher "Sky Juice" Burth.

This new disc has 12 tracks and just under 60 minutes of modern roots with a distinct pop edge.

The band's sound is clean and tight, with tunes ranging from relentless rockers to slow ballads, and once again the silky smooth vocal delivery of Billy "Mystic" is at the forefront. "Mystic" also has a knack for writing exceptionally catchy songs with sincere lyrics ranging from the romantic to his deep belief in Rastafari.

For example, the upbeat title track opens things up with the following:

"Your life is there before you...
so take your chance and make it into something that will grow.
Don't let the evening find you with nothing there to show...
for your time."

The next cut, "I and I," is superb and offers these thought-provoking lines over a wicked rhythm:

"Everything in life has a reason, and its purpose, place and time.
Jah made fruits to bear in due season and set the seasons for a sign."

"Mystic" delivers his righteous messages throughout, with other memorable cuts being "I Believe In Love," "Dem Problem," "Stand Up Strong," "Judgement Day" and "In Dis Time."

The Mystic Revealers are one of the hottest bands on the planet today. With the release of "Space and Time," the question now is not if, but when, they'll achieve international stardom.






MAIN PAGE

SKANK RECORDS

FREE SKANK SAMPLER

SKANKWEAR

NEW RELEASES

CD REVIEWS

SKANK RADIO

MYSPACE

ARTICLES

POSITIVE VIBES ON KDHX

CONCERT REVIEWS

FAVORITE LINKS

GET IN TOUCH

WHO IS PROFESSOR SKANK?