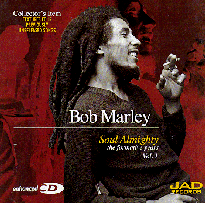 BOB MARLEY
Soul Almighty
(JAD)

This originally ran in Reggae Report in 1996.

"Soul Almighty" will undoubtedly go down as one of the most unusual Bob Marley discs ever released. Recorded during the heyday of Rock Steady, these cuts reveal a side of the late Reggae legend which will certainly intrigue.

Interesting and informative liner notes from Marley historian Roger Steffens explain that in late 1966, Johnny Nash saw "this guy...named Bob Marley" perform at a spiritual Rastafarian gathering called a "grounation" and the following day insisted to his partner, Danny Sims, that they sign him "immediately."

This ultimately led to the recording of numerous tracks, of which these 16, after incredibly painstaking restoration, have finally been released. At the time of their partnership, the yet-to-be-dreadlocked Marley was apparently going to be marketed as a soul singer (remember, Reggae had yet to evolve), and Sims imported - get this - Aretha Franklin's band to supply the music.

These talented musicians proceeded to learn Rock Steady and the results are quite pleasing. The majority of the soul-injected tunes are well-known Marley compositions, beginning with an excellent version of "Rock Steady" and moving through such classics as "Bend Down Low," "Put It On," "Mellow Mood," "How Many Times," "Nice Time" and the title track. You'll also find some rare R&B songs not penned by Marley.

The bottom line with "Soul Almighty" is if you're unfamiliar with the greatness of Marley's work on the Island label, this disc can wait. But if you're a devoted fan, and - like myself - crave everything Robert Nesta Marley has ever recorded, then this one is a must hear.

Just wanted to add that I reviewed this before it became a CD-ROM, and it is outstanding. Hours of info on Marley! Highly recommended.






MAIN PAGE

SKANK RECORDS

FREE SKANK SAMPLER

SKANKWEAR

NEW RELEASES

CD REVIEWS

SKANK RADIO

MYSPACE

ARTICLES

POSITIVE VIBES ON KDHX

CONCERT REVIEWS

FAVORITE LINKS

GET IN TOUCH

WHO IS PROFESSOR SKANK?