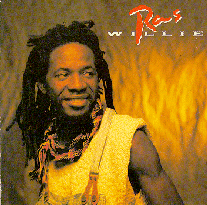 RAS WILLIE
Songs Of Joy
(Teal/Gallo)

This originally ran in the St. Louis Post Dispatch in 1993.

A major perk of any record reviewer is the possibility of discovering music that most certainly would be overlooked otherwise. Case in point is a recent package from South Africa which contained "Songs Of Joy" by Ras Willie.

From his bio, Ras Willie is a 28 year old vocalist from Zambia. Born William Wamudambo Mbewe, he changed his name after listening to the sounds of Burning Spear, Israel Vibration and Bunny Wailer - and ultimately embracing Rastafarianism - in the mid-80's.

He's taken those influences and incorporated them into a unique and energetic reggae style which blends jazz, rock, ska, rumba and African. The result is phenomenal.

Beginning with the intense "Rub-A-Dub-A-Musica," the 8 tracks on "Songs Of Joy" are relentless. Willie's emotionally-charged vocals are accented with plenty of horns, infectious beats, dynamic drumming and scorching lead guitar (courtesy of "George The Greek"). The tunes are above-average in length (ranging from 4 1/2 to 7 minutes) and each becomes an excercise in this reggae-fusion style.

This superb release is Ras Willie's debut. If you dare to give new sounds a chance, this powerful disc will knock you out. If you can't find "Songs Of Joy," order it. It'll be worth your while.






MAIN PAGE

SKANK RECORDS

FREE SKANK SAMPLER

SKANKWEAR

NEW RELEASES

CD REVIEWS

SKANK RADIO

MYSPACE

ARTICLES

POSITIVE VIBES ON KDHX

CONCERT REVIEWS

FAVORITE LINKS

GET IN TOUCH

WHO IS PROFESSOR SKANK?