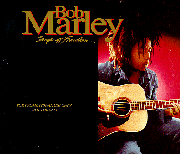 BOB MARLEY
Songs Of Freedom
(Tuff Gong/Island)

This originally ran in the St. Louis Post Dispatch in 1992.

Maximum respect goes out to Island records for the release of this outstanding 4 CD limited edition box set (also available on cassette). 78 songs; including extended versions, rare releases, alternate takes, and a 64 page informative booklet, make this an essential buy for all reggae fans.

Beginning with Marley's first solo recordings in 1962, the ska flavored "Judge Not" and "One Cup Of Coffee," then taking us through a journey which traces his career through the formation of The Wailers to his emergence as an international superstar (ending with the classic "Redemption Song," offered here as a live version recorded in Pittsburgh at his final show in 1980), "Songs Of Freedom" is an exhaustive compilation which chronicles this legendary artist's eighteen-year career.

Of the 78 songs, well over one-third are already available (taken from his Island record catalog; beginning with "Catch A Fire," and ending with "Uprising"). Although these classic recordings are an excellent sample of Marley's work, the real excitement is found in the rarities.

"High Tide Or Low Tide," "Iron Lion Zion" (which will be the first single and video, due Oct. 26th), and "Why Should I" are three recordings which have never been heard before (only recently being discovered). Each is from the early 70's, and each is vintage Marley.

The 12" versions of "Jammin'," "Exodus," "Ride Natty Ride," "One Love," "Could You Be Loved," and "Coming In From The Cold," are, in a word, wicked.

Some of the outstanding rare tracks include "Lick Samba," "Craven Choke Puppy," the haunting "Jah Live," "Guava Jelly, "Screw Face," "Bus Dem Shut (Pyaka)," "Smile Jamaica," and an insightful acoustic medley, timing in at just over 12 minutes, featuring excerpts of 7 songs (including "This Train," and "Cornerstone"), recorded in Sweden when Marley was working on a film soundtrack with Johnny Nash in 1971.

There are also original versions of "Stir It Up, "One Love," "Mellow Mood," "Duppy Conqueror," "Bend Down Low," and "Put It On," as well as alternate versions of such classics as "Trenchtown Rock," "Waiting In Vain," "Three Little Birds," "Keep On Moving," "I'm Hurting Inside," and "Is This Love."

With almost 5 hours of crucial reggae, "Songs Of Freedom," will provide endless hours of entertainment. It will also, on behalf of the Bob Marley Foundation (as said in the liner notes) "donate part of the proceeds...for the establishment of the Berhane Selassie School in Ethiopia (which) is dedicated to the children left destitute by the Civil War in Ethiopia."

Even though Bob Marley passed away in 1981, his legend continues to grow. This informative, well-done retrospective will certainly add to the man's legacy. "Songs Of Freedom" is a must have and belongs in each and every one's collection.






MAIN PAGE

SKANK RECORDS

FREE SKANK SAMPLER

SKANKWEAR

NEW RELEASES

CD REVIEWS

SKANK RADIO

MYSPACE

ARTICLES

POSITIVE VIBES ON KDHX

CONCERT REVIEWS

FAVORITE LINKS

GET IN TOUCH

WHO IS PROFESSOR SKANK?