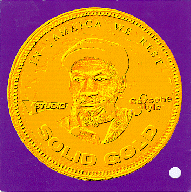 VARIOUS ARTISTS
Solid Gold, Coxsone Style
(Heartbeat)

This originally ran in the St. Louis Post Dispatch in 1992.

Heartbeat Records, since 1987's "Best of Studio One," has been releasing killer compilations from the seemingly never-ending material of this legendary record label.

Started in the early 60's by producer Clement "Coxsone' Dodd, Studio One is a Jamaican institution, and as the liner notes state in that initial release, "nearly every Jamaican artist of note got his or her start in Coxsone's Studio One stable."

This latest offering was originally released in the early 70's; Heartbeat has added another four songs to round it out to 16 tracks and over 50 minutes of crucial reggae. Starting with John Holt's "Strange Things," and containing such classics as the Abyssinian's "Declaration of Rights," this is essential listening.

"Solid Gold, Coxsone Style" - as well as all of Heartbeat's compilations - needs to be heard. Studio One is where it all began, and this music stands the test of time. Check it out.






MAIN PAGE

SKANK RECORDS

FREE SKANK SAMPLER

SKANKWEAR

NEW RELEASES

CD REVIEWS

SKANK RADIO

MYSPACE

ARTICLES

POSITIVE VIBES ON KDHX

CONCERT REVIEWS

FAVORITE LINKS

GET IN TOUCH

WHO IS PROFESSOR SKANK?