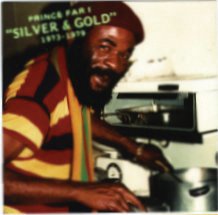 PRINCE FAR I
Silver & Gold 1973-1979
Blood And Fire


Blood And Fire - for years - has been one of the best labels in the world, repeatedly releasing vintage roots reggae. No surprise that they've done it again with the Prince Far I cd, "Silver & Gold."

Clocking in at 65 minutes and 19 tracks, "Silver & Gold" shows why Prince Far I was nicknamed the Voice Of Thunder. Back in the '70s, The Clash were checking him out and if he's good enough for them to check him out then, he's good enough for us to check him out now.

It kicks off with the rare killer, "Johnny Get Worse," which was on the "Johnny Too Bad" rhythm by the Slickers. It's a great way to start the cd off and things just skank from there.

Errol Holt takes over lead vocals on a few songs and the cd also has some killer dubs mixed in. Like I said, it's no surprise that the Blood And Fire label has come up with another killer release. You can not go wrong with that label and this release proves it beyond a shadow of a doubt.
For more info, check out Blood And Fire's website at: BLOOD AND FIRE

MAIN PAGE
SKANK RECORDS
FREE SKANK SAMPLER
SKANKWEAR
NEW RELEASES
CD REVIEWS
SKANK RADIO
MYSPACE
ARTICLES
POSITIVE VIBES ON KDHX
CONCERT REVIEWS
FAVORITE LINKS
GET IN TOUCH
WHO IS PROFESSOR SKANK?