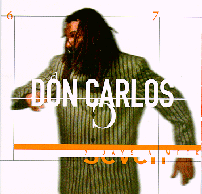 DON CARLOS
7 Days A Week
(Ras)


Don Carlos has always been one of my favorite vocalists, and his latest release, "7 Days A Week," finds him once again in excellent form.

Staying true to his roots, Carlos gives us thirteen tracks and just under 50 minutes of conscious modern Reggae.

With background vocals by long-time partner Gold (as well as Winston Watson from the Meditations) the songs sound sweet and catchy - and with players of instruments including the Roots Radics - why wouldn't they?

The songs found on this disc are well written and well played, proving that Don Carlos is still a major force in modern Reggae music.






MAIN PAGE

SKANK RECORDS

FREE SKANK SAMPLER

SKANKWEAR

NEW RELEASES

CD REVIEWS

SKANK RADIO

MYSPACE

ARTICLES

POSITIVE VIBES ON KDHX

CONCERT REVIEWS

FAVORITE LINKS

GET IN TOUCH

WHO IS PROFESSOR SKANK?