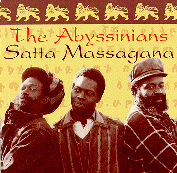 ABYSSINIANS
Satta Massagana
(Heartbeat)

This originally ran in the St. Louis Post Dispatch in 1993.

"Forward Unto Zion" was one of the most powerful and spiritual reggae albums ever recorded. Heartbeat records has taken that early 70's classic, added four songs, changed the title to "Satta Massagana," and has come up with another outstanding release.

From the opening track, "Declaration of Rights" (which is different than their Studio One version), The Abyssinians (Bernard Collins, Donald and Lynford Manning) bombard us with 14 songs of roots reggae that demand attention. Everything is there - sincere vocals, perfect harmonies, timeless rhythms, and righteous lyrics. This group was simply way ahead of its time.

Check out songs like "Black Man's Strain," "Abendigo," "Leggo Beast," and "Peculiar Number" to fully understand the greatness of this vocal trio.

"Satta Massagana" can not be praised enough. If you already own the original album, get the CD anyway for its high sound quality. If you don't have it, get it. Without question, it's one of the greatest reggae albums ever made.






MAIN PAGE

SKANK RECORDS

FREE SKANK SAMPLER

SKANKWEAR

NEW RELEASES

CD REVIEWS

SKANK RADIO

MYSPACE

ARTICLES

POSITIVE VIBES ON KDHX

CONCERT REVIEWS

FAVORITE LINKS

GET IN TOUCH

WHO IS PROFESSOR SKANK?