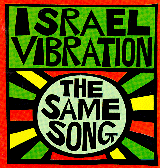 ISRAEL VIBRATION
The Same Song
(Pressure Sounds)

This originally ran in Reggae Report in 1996.

For those familiar with Israel Vibration, it's a story that's been told countless times: three youths with polio meet in a Jamaican rehabilitation center, turn a friendship into a vocal group, then proceed to create some of reggae music's most memorable recordings.

One of those, their 1978 debut on the Top Ranking label entitled "The Same Song," has just been re-issued on Pressure Sounds.

This monumental album was produced by Tommy Cowan and contains some of the most irresistable roots reggae you'll ever hear. Slow, offbeat rhythms draw you in, jagged guitar chords mesmerize and the unique and passionate vocal style of Apple, Wiss and Skelly remains unforgettable.

This trio delivers their righteous, uplifting songs with superb backing from some of the island's most talented musicians. Believe me, it does not get any better than this.

The classics are all here, including "Why Worry," "Walk The Streets Of Glory," "Lift Up Your Conscience," "Licks and Kicks," "Prophet Has Arise" and "Ball Of Fire." The opening title track is now an extended version, and a later maxi-single, "Crisis," along with its melodica dub version featuring Augustus Pablo, have now been added at the end.

The only negative - and it's a minor point - is the questionable change from the original cover picture of the group to basically what amounts to a more sophomoric lettering approach. That original, and slightly altered, photograph is now found on the inside along with some brief, yet interesting, liner notes.

"The Same Song" is an essential and highly recommended debut from a group that's still releasing quality material.






MAIN PAGE

SKANK RECORDS

FREE SKANK SAMPLER

SKANKWEAR

NEW RELEASES

CD REVIEWS

SKANK RADIO

MYSPACE

ARTICLES

POSITIVE VIBES ON KDHX

CONCERT REVIEWS

FAVORITE LINKS

GET IN TOUCH

WHO IS PROFESSOR SKANK?