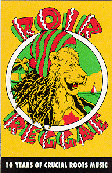 Various Artists
ROIR REGGAE: 10 YEARS OF CRUCIAL ROOTS MUSIC
(Roir)

This originally ran in the St. Louis Post Dispatch in 1992

This recent release is a good sampler from this unique, cassette-only label. Although ROIR (Reachout International Records) got its start by releasing punk and new wave tapes, it has also been known for its involvement with Jamaican music, presenting us with over 30 reggae and dub releases.

Noted reggae author Stephen Davis researched ROIR's first decade and has assembled 22 representative tracks by such artists as Black Uhuru, Lee Perry, Roots Radics, Steely and Clevie, Prince Far I, and Yellowman. The only poor choice is the inclusion of "Confucius," by the Skatalites, which, though a classic, simply doesn't fit. The remaining tunes, however, are well selected and have a nice flow. Over half of them are spacey dub versions, with the majority being outstanding. The few vocal tracks are also good, with Chicken Chest's "Raggamuffin Pt.2," and the selections by Exuma, the Killer Bees, and Bob Marley's mother, especially notable.

With almost 90 minutes of playing time, this is a terrific taste of ROIR's catalog. If you're unable to locate this cassette, write ROIR, 611 Broadway, Suite 411, New York, NY, 10012. For only 9 bucks, it's a steal.






MAIN PAGE

SKANK RECORDS

FREE SKANK SAMPLER

SKANKWEAR

NEW RELEASES

CD REVIEWS

SKANK RADIO

MYSPACE

ARTICLES

POSITIVE VIBES ON KDHX

CONCERT REVIEWS

FAVORITE LINKS

GET IN TOUCH

WHO IS PROFESSOR SKANK?