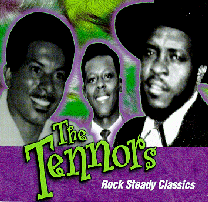 THE TENNORS
Rock Steady Classics
(Nighthawk)



Rock Steady was the historic part of Jamaican music that briefly came between Ska and Reggae. The Tennors came on the scene during the heyday of Rock Steady in 1967 and proceeded to record some tunes that would help define that style.

The group went through a few different singers, but the addition of Ronnie Davis proved to have the greatest impact. Even though they had a short career and were done by the early '70s, the Tennors still were major players on the scene.

This disc uses some of the greatest musicians out of Jamaica and consists of such songs as "Ride Yu Donkey," "Baby Come Home," "We Got Soul," "Run Come," "Pressure And Slide" and 13 others. The 45-plus minutes of, as the title says, "Rock Steady Classics," will prove to stand the test of time.



For Nighthawk's website, check out NIGHTHAWK RECORDS.






MAIN PAGE

SKANK RECORDS

FREE SKANK SAMPLER

SKANKWEAR

NEW RELEASES

CD REVIEWS

SKANK RADIO

MYSPACE

ARTICLES

POSITIVE VIBES ON KDHX

CONCERT REVIEWS

FAVORITE LINKS

GET IN TOUCH

WHO IS PROFESSOR SKANK?