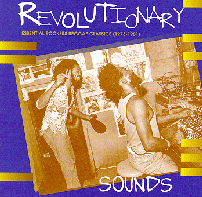 VARIOUS ARTISTS
Revolutionary Sounds
(Shanachie)



"Revolutionary Sounds" is a single CD, but it can also be found as part of an excellent 4-CD Box set. Subtitled "Essential Rockers Reggae Classics (1973-1981), this disc is exactly that as it offers 14 tracks and just over 50 minutes of classic Reggae delivered in the "Rockers" style.

I personally bought it because of one tune, Dr. Alimantado's "Born For A Purpose," but it also has such killer tracks as Burning Spear's "Slavery Days," Jacob Miller's "False Rasta," Sugar Minott's "Chant A Psalm," and a crucial version of "A Little Way Different" by Errol Dunkley.

If you're unfamiliar with the greatness of Jamaican music, this disc would be a great place to start.



To check out Shanachie's website... SHANACHIE.






MAIN PAGE

SKANK RECORDS

FREE SKANK SAMPLER

SKANKWEAR

NEW RELEASES

CD REVIEWS

SKANK RADIO

MYSPACE

ARTICLES

POSITIVE VIBES ON KDHX

CONCERT REVIEWS

FAVORITE LINKS

GET IN TOUCH

WHO IS PROFESSOR SKANK?