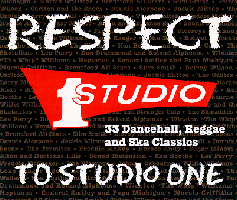 VARIOUS ARTISTS
Respect To Studio One
(Heartbeat)

This originally ran in the St. Louis Post Dispatch in 1994.

For over a decade, Heartbeat has released classic reggae from the legendary Studio One label, resulting in over 30 re-issues and compilations. This double CD takes one track from each of those releases with the result being 32 songs and almost two hours of vintage Jamaican music.

Studio One was - and still is - located on Brentford Road in Kingston, Jamaica. This historic recording studio was established by Clement "Coxsone" Dodd in the early 60's and virtually every major artist from that period got their start at this Jamaican institution.

Besides being the owner, "Coxsone" produced all of the tracks, using such talented bands as the Skatalites, Soul Brothers, Sound Dimension, Soul Vendors, Soul Defenders and Brentford All Stars. The tunes on this compilation are timeless (in fact, many of these rhythms are still being used today) with the styles ranging from rock steady to reggae. The package ends with five ska scorchers from the studio's earliest days.

Although each cut deserves your undivided attention, some of the absolute highlights include the tunes by Marcia Griffith, Slim Smith, Delroy Wilson, Burning Spear, Freddie McKay, Horace Andy, the Viceroys, Johnny Osbourne and John Holt.

This is just a small sample of the many Studio One songs that have rocked the reggae world, dominating the Jamaican charts for the last 30-plus years. Check it out for yourself, but if you're desperate for that last-minute holiday gift, this crucial compilation is guaranteed to satisfy even the most discerning reggae fan.






MAIN PAGE

SKANK RECORDS

FREE SKANK SAMPLER

SKANKWEAR

NEW RELEASES

CD REVIEWS

SKANK RADIO

MYSPACE

ARTICLES

POSITIVE VIBES ON KDHX

CONCERT REVIEWS

FAVORITE LINKS

GET IN TOUCH

WHO IS PROFESSOR SKANK?