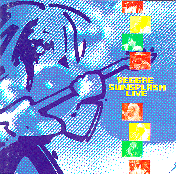 VARIOUS ARTISTS
Reggae Sunsplash Live
(Mca)

This originally ran in the St. Louis Post Dispatch in 1993.

With St. Louis' version of Reggae Sunsplash just around the corner, this timely release from MCA Records should help to satisfy reggae fans until the June 26th event at Riverport takes place.

The Sunsplash is a mind-boggling musical extravaganza which occurs annually in Montego Bay, Jamaica. It's six days of virtual non-stop reggae, featuring over 100 performers. This disc showcases twelve of those artists and captures some of last year's more memorable moments.

According to Roger Steffens' liner notes, the 1992 Sunsplash was extra special because it marked the 15th anniversary of the festival itself, the 20th anniversary of Jamaican Independence and the 100th birthday of former Ethiopian Emperor, Haile Selassie I.

Marcia Griffiths kicks off this exceptional sounding live recording with the relentless "Feel Like Jumping," and from that point on it's a well-balanced, 45 minute mix of DJs and singers. The selections are well chosen, the musicianship is tight and the transitions between songs are smoother than smooth. There's even talk of two more releases, one featuring each of the aforementioned styles.

Some personal favorites include "Got To Be A Better Way" by the Mystic Revealers, as well as tunes from Beres Hammond, Barrington Levy, Ed Robinson, Chaka Demus, and the collaboration between Wayne Wonder and DJ Buju Banton.

There's some wicked reggae on this release. Listen to the excitement, then check it out for yourself when Reggae Sunsplash comes to town.






MAIN PAGE

SKANK RECORDS

FREE SKANK SAMPLER

SKANKWEAR

NEW RELEASES

CD REVIEWS

SKANK RADIO

MYSPACE

ARTICLES

POSITIVE VIBES ON KDHX

CONCERT REVIEWS

FAVORITE LINKS

GET IN TOUCH

WHO IS PROFESSOR SKANK?