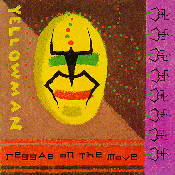 YELLOWMAN
Reggae On The Move
(Ras)

This originally ran in the St. Louis Post Dispatch in 1992

Yellowman, once the King of reggae DJ's, continues his downward slide with another poor release, this one entitled "Reggae On The Move."

The majority of songs are lackluster, with none of the "bite" that characterized this Albino Jamaican's earlier, and best, material. To his credit, he does give us a few catchy tunes, but the production is weak, his "slack" (or dirty) lyrics are lame, and his delivery is nonchalant.

It was only one decade ago that Yellowman burst on the scene and released classic after classic track. He dominated the stage as well, working crowds better than any DJ around (I recently saw him in Jamaica and he still puts on a good show). His recent recordings, though, are simply stale, boring, and have nothing outstanding to offer.

"Reggae On The Move" isn't the worst thing out there, but believe me, there's not a song on this release that should ever land on any "greatest hits" package. Stay away from mediocrity.






MAIN PAGE

SKANK RECORDS

FREE SKANK SAMPLER

SKANKWEAR

NEW RELEASES

CD REVIEWS

SKANK RADIO

MYSPACE

ARTICLES

POSITIVE VIBES ON KDHX

CONCERT REVIEWS

FAVORITE LINKS

GET IN TOUCH

WHO IS PROFESSOR SKANK?