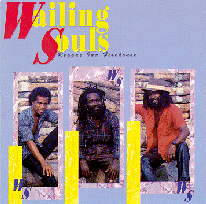 WAILING SOULS
Reggae Ina Firehouse
(Live And Learn)

This originally ran in the St. Louis Post Dispatch in 1992.

The Wailing Souls are one of the all-time great reggae vocal groups. On the heels of their recent signing with Columbia Records, Live & Learn Records has released "Reggae Ina Firehouse."

These songs were probably recorded within the last year, though it's hard to say (the chaotic Jamaican music industry is one of life's great mysteries). Nevertheless, this record presents us with some terrific roots reggae.

The legendary Winston "Pipe" Matthews once again handles most of the lead vocals. His distinctive voice (one of reggae's coolest and most memorable) is at top form, as are the impeccable harmonies. Check out the extremely catchy "Cherry Ripe," or personal favorites "Wash Mouth" and "Nice One."

This group should have something out soon on Columbia, and if promoted properly, watch out. In the meantime, give this one a listen.






MAIN PAGE

SKANK RECORDS

FREE SKANK SAMPLER

SKANKWEAR

NEW RELEASES

CD REVIEWS

SKANK RADIO

MYSPACE

ARTICLES

POSITIVE VIBES ON KDHX

CONCERT REVIEWS

FAVORITE LINKS

GET IN TOUCH

WHO IS PROFESSOR SKANK?