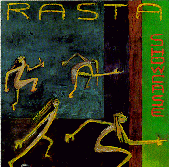 VARIOUS ARTISTS
Rasta Showcase
(Esoldun)

This originally ran in the St. Louis Post Dispatch in 1993.

In the unique, innovative world of reggae music, the "showcase" album of the 1970's offered three or four tracks on each side, with each one followed immediately by the dub, or instrumental, version. This recent compilation for the most part follows that format as it presents 13 obscure yet classic tracks in authentic roots reggae style.

ROIR (Reachout International Records) is now importing and distributing these superior releases from the Lagoon label. On "Rasta Showcase," works of four prolific producers (J.J. Johnson, Bunny Lee, Niney the Observer, and especially Tommy Cowan) are presented.

Words can barely do this package justice as this is some of the wickedest reggae ever recorded. It starts off with Winston McAnuff's emotional plead, "Take Warning! Or you may end up a-mourning," over the slow, powerful rhythm of "What A Man Sow," and things simply never let up. The dubs are outstanding and mind-bending, and each song - by Horace Andy, The Ethiopians, Johnny Clarke, David Jahson, Israel Vibration, The Jewels and Devon Irons - is exemplary.

Included among the 55 minutes of rasta are five songs, five dubs and three "maxi-versions." The sound, mix and selection are all outstanding. Each and every track is absolutely captivating.

"Rasta Showcase" is one of the best reggae compilations you'll ever hear. If you're a novice to Jamaican music, or a collector, make sure you find this one at any cost.

For a free catalog, write ROIR, 611 Broadway, Suite 411, New York, N.Y., 10012.
Or call (212) 477-0563.






MAIN PAGE

SKANK RECORDS

FREE SKANK SAMPLER

SKANKWEAR

NEW RELEASES

CD REVIEWS

SKANK RADIO

MYSPACE

ARTICLES

POSITIVE VIBES ON KDHX

CONCERT REVIEWS

FAVORITE LINKS

GET IN TOUCH

WHO IS PROFESSOR SKANK?