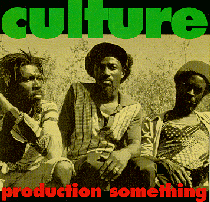 CULTURE
Production Something
(Heartbeat)

Culture, led by the one and only Joseph Hill, has created some of the greatest Reggae to ever be released. This CD only adds to the group's legacy. "Production Something" consists of nine tracks - all extended or alternate mixes - and over 68 minutes of crucial rasta.

There are three "previously unreleased alternate mixes:" "Too Long In Slavery," "Trod On" (featuring Jah Thomas) and "Pyaka;" five "extended mixes:" "Garvey," "Weeping," Dog A Go Nyam Dog," Black Rose" and the title track (featuring Grandpa Culture - Joseph Hill himself!) and an "extended alternate mix" of "Children Of Israel."

These rare tracks were produced by Sonia Pottinger and use such outstanding musicians as Sly Dunbar, Ranchie McLean, Willie Lindo, Earl "Wire" Lindo, Headly Bennett and Dean Fraser. "Production Something" is another CD that must be heard.



For Heartbeat's website, check out HEARTBEAT RECORDS.






MAIN PAGE

SKANK RECORDS

FREE SKANK SAMPLER

SKANKWEAR

NEW RELEASES

CD REVIEWS

SKANK RADIO

MYSPACE

ARTICLES

POSITIVE VIBES ON KDHX

CONCERT REVIEWS

FAVORITE LINKS

GET IN TOUCH

WHO IS PROFESSOR SKANK?