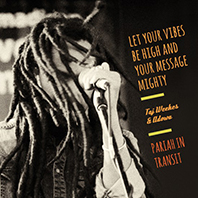 Taj Weekes & Adowa
Pariah In Transit
(Jatta)

In the summer of 2012, I witnessed one of the most memorable concerts of a lifetime when Taj Weekes & Adowa rolled through town.

A few weeks before the show I obtained their latest release, "A Waterlogged Soul Kitchen," but had yet to hear their first two discs and wasn't really prepared for what was in store. I'm telling ya, they were roots to the core. Even though I was unfamiliar with almost all of the tunes it was still an incredibly magical evening.

I immediately picked up their 2006 debut, "Hope And Doubt," and their sophomore effort, "Deidem" (released two years later). Both are excellent but the latter is one of the most powerful discs ever released. Absolutely crucial.

Fast forward to "Pariah In Transit," a fantastic set culled from their stellar live performances in 2011 and 2012 while touring the U.S. and Canada. Its release date is set for April 9, 2013.

Taj Weekes hails from St. Lucia and is an exceptional talent; truly one of the greatest and most intelligent songwriters of his generation. Along with his band (Delroy Golding on percussion, Adoni Xavier on guitar, John Hewitt on keys, Cornel Marshall on drums and Radss Desiree on bass – and with the sweet harmonies of a trio of female background vocalists) they comprise one of the best touring bands today. Chris Laybourne on sax, Craig Besthoff on harmonica and Aljam on guitar also lend their considerable talents to some of these songs.

"Pariah In Transit" clocks in at just under one hour and shows the band in top form. Kicking off with "Angry Language," it's back-to-back classics, closing down with "Scream Out Mellow." Six of the tracks are from "Deidem," two are from "Hope And Doubt," one is from "A Waterlogged Soul Kitchen" and they've even included an unreleased song entitled "Jordan."

If Taj Weekes & Adowa come into your town (or anywhere in the vicinity), do not miss them. They're seriously that good and you're guaranteed to be blown away. Until then, though, check out this live disc, hear for yourself and get ready.






TAJ WEEKES' HOMEPAGE



REVIEW OF LOVE, HERB & REGGAE





MORE REVIEWS

MAIN PAGE

SKANK RECORDS

FREE SKANK SAMPLER

SKANKWEAR

NEW RELEASES

SKANK RADIO

MYSPACE

ARTICLES

POSITIVE VIBES ON KDHX

CONCERT REVIEWS

FAVORITE LINKS

GET IN TOUCH

WHO IS PROFESSOR SKANK?